15-year warranty
Because we mean what we say, you'll get a 15-year warranty!
Ilwa works with durable glued laminate. The hard laminate board is pressed onto the core board from both sides. This allows Ilwa to provide additional warranties for 15 years:
Rigid shelves
Additional screw tightness for hinges and runners
High-wear resistance
Colour fastness
High protection against moisture penetration.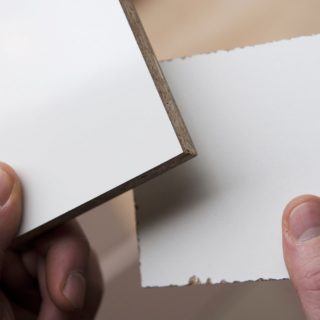 The glossy white lining is particularly easy to care for. Ilwa glues its panels on both sides with strong and wear-resistant laminate (block on the left). This consists of 5 to 7 layers of soaked films that are compressed under high pressure to a thickness of 0.75 to 1 mm. Other manufacturers often use melamine (block on the right) – based on paper foil – which is only 0.15 mm thick.